Main content starts here, tab to start navigating
Slide 1 of 16
Slide 2 of 16
Slide 3 of 16
Slide 4 of 16
Slide 5 of 16
Slide 6 of 16
Slide 7 of 16
Slide 8 of 16
Slide 9 of 16
Slide 10 of 16
Slide 11 of 16
Slide 12 of 16
Slide 13 of 16
Slide 14 of 16
Slide 15 of 16
Slide 16 of 16
BRING BRANDON'S DONUTS TO YOU!
Brandon's Donuts are the perfect treat for any special occasion! Birthdays, holidays, showers, weddings, gender reveals, corporate events or any special day you have planned, count on us to make it a sweet one!
We pridefully cook our donuts to perfection using only the highest quality ingredients. Create your own custom selection or opt for an assortment of our favorite donuts.
To place an order, email brandons.donuts@gmail.com with the following information:
Name, Phone #, Date & Time for you order, Pickup or Delivery (delivery address), # of donuts. Types of donuts: CLASSIC (with or without glaze?), BUILD YOUR OWN (list the flavor dough, icing, toppings, drizzle, # of each), SPECIALTY (assorted or specifically list each flavor and # of each)
If you would like to request CUSTOM flavors, colors, writing or designs, please be as specific as possible in your email & give us a minimum of 1 week notice to gather ingredients.
Respond time is typically 24-48 hours. We kindly ask you give 24 hours advance notice for small orders of 1-3 dozen donuts and 48 hours for orders of 4 dozen or more.
DONUT TOWERS
We offer acrylic donut towers that are perfect for displaying your yummy assortment of donuts!
To place an order email brandons.donuts@gmail.com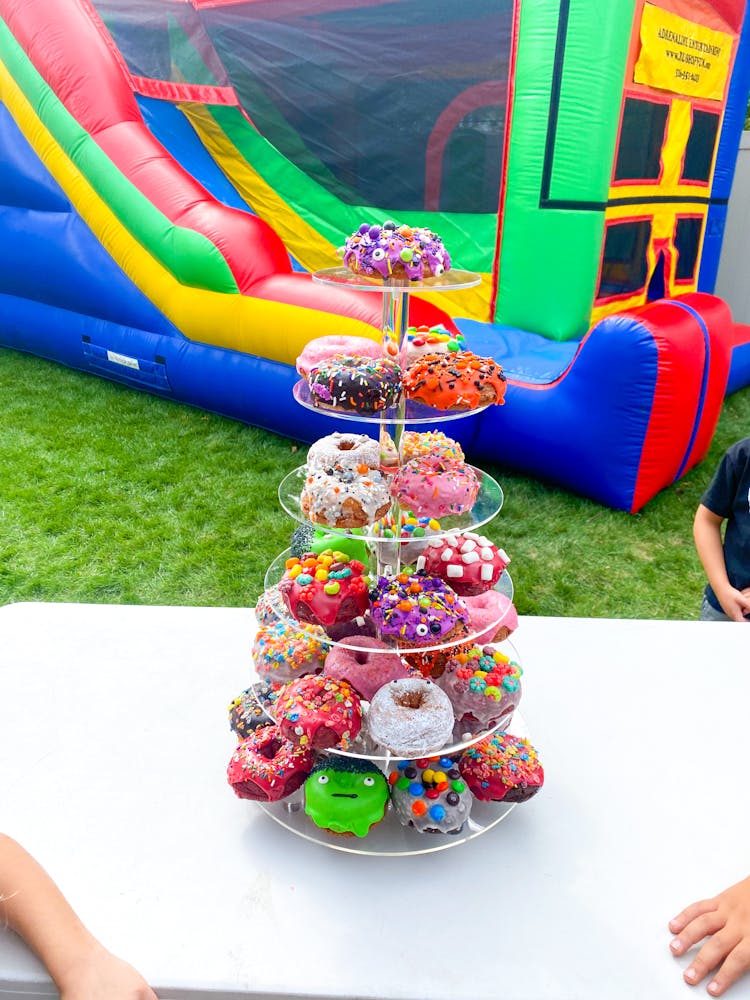 DONUT WALL!
Rent our portable donut wall for your next event! With 72 pegs, it can hold up to 144 donuts at a time!